Whether you are a bushcraft enthusiast or just a person who loves backpacking with your family on holidays, no one enjoys living off of uncooked meals while out in the bush. Therefore, investing in a bushcraft stove can be the perfect decision for fine-tuning your outdoor experiences.
Apart from cooking delicious foods and boiling water for yourself, a camping stove can also give you warmth on freezing nights during your outings.
However, choosing the perfect camping stove from the variety of options available in the market can be a nerve-racking task. Are you worried about which bushcraft stove to buy before your next trip?  Don't stress. Just sit back, and read on to find out which camping stove best suits your needs. Here are the 6 best bushcraft stoves I have found for you.
Taking a Look at The 6 Best Bushcraft Outdoor Stoves
Though you can choose anyone you want, I would recommend you to first go through the reviews of each camping stoves. This will aid you in comparing all of them and making an informed decision.
After extensively researching the market place, I have handpicked the 6 best bushcraft stoves for you. Let us have a look at my 6 favorite camping stoves. Check out the detailed description along with the perks and choose the one that matches all your requirements.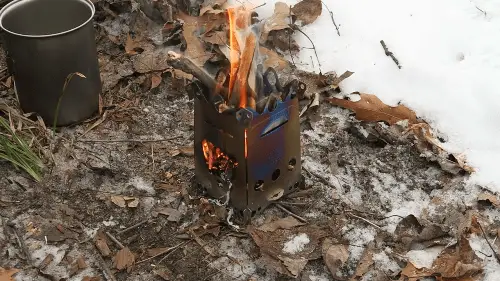 The Emberlit Fireant stove is the perfect choice for you if you wish to own a super lightweight stove that will fit perfectly in your bushcraft backpack as you can flatten it out. This whole stove, along with its plate for fuel, weighs 0.18 pounds, which is exceptionally lightweight for a backpacking stove.
This backpacking stove offered by Emberlit is made up of pure titanium. Also, it comes with a plate for solid and gel fuels. This means you do not have to worry about carrying a particular kind of fuel for your burner. This is a multi-fuel stove that you can heat using twigs or a Trangia Spirit Burner.
The components of this stove are thin and lightweight. Despite this, the quality of the burner is not compromised in any way. The dimensions of the top of the stove are 2.5*2.5 inches. It is pretty good for those who travel alone or in a group.
The ash generated while cooking gets stored at the bottom of the stove.  Also, the best part about this Emberlit Fireant stove is that it comes with a lifetime warranty. This stove can also hold your Esbit/Trangia alcohol stove in place.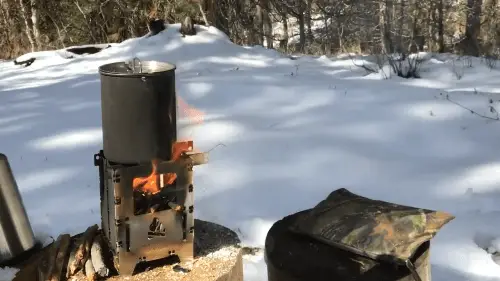 Bushcraft essential is a well-recognized company that delivers functional and high-quality tools for your bushcraft kit. All their products are versatile and durable. Bushbox LF stove is one out of all their incredible camping equipment. This burner is known for its ease to use.
Stainless steel is used as the material for manufacturing this burner. Therefore, you do not need to worry about its longevity at all. The steel makes it sturdy as well. This compact and foldable stove is the best bushcraft stove for your outdoor adventures. This burner is a multi-fuel stove. Therefore, you can use anything like wood, charcoal, liquid fuel, and other energies to ignite it.
One of the amazing features of this stove is its hinge design. Due to this, the bushbox LF stove can be easily assembled in seconds. It comes with two trivets. They can act as either the handles of the stove to move it or as a pot stand on the top of the burner. Also, Bushcraft essentials offer you a grill plate with this stove that you can use to balance the utensils.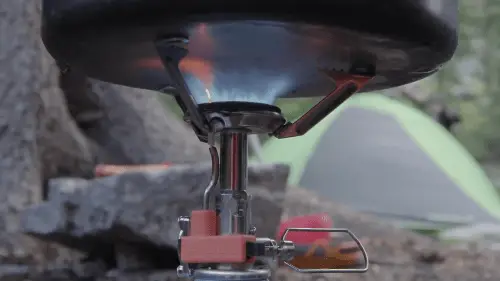 If you are looking for a bushcraft stove that can reach a rolling boil for you in as little as three minutes, then Jetboil Mighty Mo is the right choice for you.
Jetboil Mighty Mo is made up of stainless steel. It uses liquefied petroleum gas as a fuel to burn. This stove comes with a four-foot fuel can stabilizer, which gives it the support for standing alone.
Also, it weighs around 0.35 pounds that makes it light weighted. Therefore, you can carry it easily in your backpack. This mini and easy to carry burner is also easy on your pockets.
This burner features a four turn heat regulator that offers you the opportunity to adjust the heat from a light simmer to a rolling boil. It also comes with a reliable pushbutton igniter that makes your task of igniting the burner easy.
Do not fret about torching this stove in freezing conditions. This excellent burner can operate efficiently, even in temperature as low as -6° Celsius. Though this stove can work with pots of other companies as well, it fits perfectly with Jetboil's 1.5-liter FluxRing Pot and the Summit Skillet.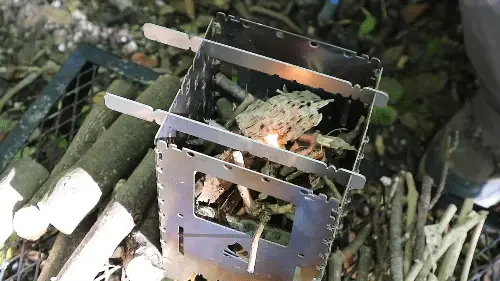 This is another incredible stove from the brand Bushcraft Essentials. This company offers you excellent bushcraft equipment and accessories. You should definitely select this stove if you love going on longer outdoor explorations.
The body of this burner is built of titanium, which is known for its heat resistant capabilities. Also, this is a multi-fuel stove. So you can use branches, twigs, leaves, and much more natural fuel for lighting your stove.  You can use liquid fuels or charcoal and wood as well.
Bushbox XL Titanium stove is the best bushcraft stove that also offers you a bottom plate and trivets. These accessories are made up of stainless steel. Folding and carrying it with your other bushcraft tool kit is exceptionally easy because of its hinge design.
This stove weighs around 1.1 pounds, including the trivets. So it is a bit heavy than other stoves but is still manageable to carry because of its foldable design.  It comes with a heavy-duty outdoor bag, which is a plus point for this burner.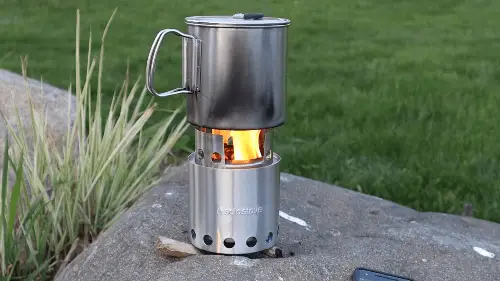 If you are looking for a portable wood-burning camping stove, then Solo Stove Lite is the best bushcraft stove for you. This outstanding burner operates on twigs and sticks, pine cones, and any other biomass. Carrying a wood-burning camping stove will also reduce the weight of your rucksack as you don't need to take any other fuel with you.
This solo stove lite is built up of 304 stainless steel material. This makes it exceptionally durable and long-lasting. The stainless steel gives this burner the capacity to stand firm and alone without any support.
The setup of this little stove is an easy peasy task. All you have to do is flip the smaller can over, the larger can, and you are ready for your cooking time. It has a double-wall construction with holes at the bottom for easing the process of combustion. Its construction also makes it damage resistant.
Cleaning this stove is super easy. Just shake it well once it cools down to get rid of ashes, and you are ready to use it again. This is lightweight weighing around 0.90 pounds.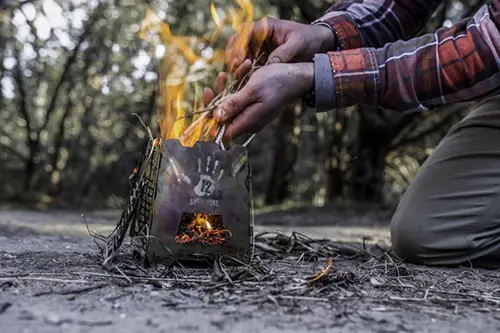 This stove offered by 12 survivors can make your outdoor experience easy and amazing. It features a simple setup and easy assembling that will aid you to start cooking as soon as you feel hungry. Just make sure to collect enough organic material for lighting this bushcraft stove.
12 survivors off-grid survival stove is built of stainless steel. It comes with collapsible side panels so that you can fold it flat for easy storage. Also, the best part about this stove is that it offers you a grill grate. This can be used for direct cooking. It also comes with a nylon pouch that makes it easy to carry.
If you are worried about the cleanup process after cooking, this stove is the solution for you. It comes with an ash pan to keep the ground clean and safe.
How to Choose The Best Backpacking Stove
We have had a thorough discussion on the best types of bushcraft backpacking stoves. Now, it is time to take a look at certain factors that you should consider before making a final decision.
Size And Weight
When you are going on a bushcraft trip, your stove must fit well either in your car or your backpack. Therefore, it becomes important to consider the size and weight of the stove. The more lightweight the stove is, the more portable and easy to carry it will become.
However, also keep in mind the weight you will have to bear of the fuel if you do not go for an organic or wood camping stove. So make an analyzed decision after considering everything.
Fuel Type And Capacity
Make sure to decide first which type of fuel you prefer. If you wish to use a burner that runs on organic biomass, then going for a liquefied petroleum gas stove does not sound prudent at all. So always pay heed to the type of fuel on which the stove operates. There are three kinds of fuel that stoves use for lightning.
Liquid fuel stove – Kerosene, Jet fuel
Organic biofuel stove – Wood, Fuel disks
Gas fuel stove – Propane, LPG
Apart from this, also consider the fuel capacity of the burner. You don't want to end up running for fuel every time you wish to cook.
Cooking Controls
A few bushcraft stoves come featuring different cooking controls. They can include a heat adjustment regulator or ignition buttons. These controls make the process of cooking or boiling easy.
So if you are looking for an easy-breezy cooking process, consider various stoves with different cooking controls. Also, make sure to check the durability of those controls.
Other Various Features
All the camping stoves are hitting the market with some unique features. Here, it becomes essential to consider these factors so you can go with the one that meets your specific requirements. We are mentioning a few aspects that you should bear in mind.
Wind resistance
Maintenance and cleanup process
Simmering ability
Assembling process
Build material
Endnotes
Today's market is saturated with various camping stoves that come with a variety of innovative designs and features. Thus, the journey of picking the best bushcraft stove for your adventures is not an easy ride at all. Investing in a good bushcraft stove can pay off in the long run. Therefore, considering and comparing different factors becomes significant.
I hope that my meticulous research and this detailed review will help you to select the best bushcraft stove as per your budget and needs.
Let me know if you liked the post. That's the only way I can improve.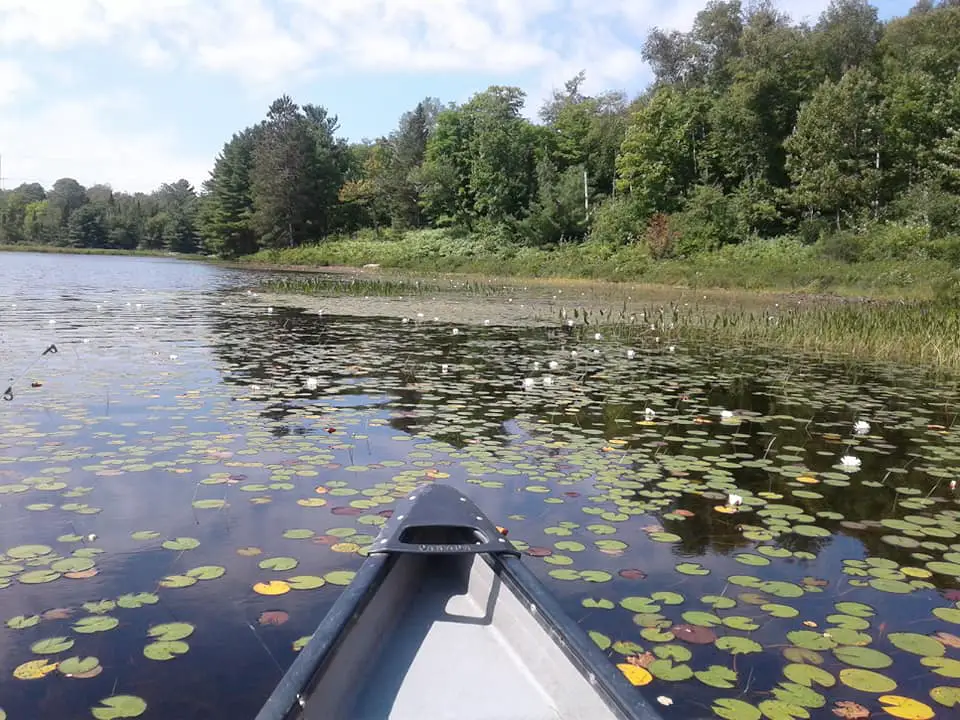 Hey I'm Josh! I have been practicing Bushcraft for a little over 6 years now! I Started this website to review awesome bushcraft gear that I love as well as share information I have learned along the way!