If you are like me and spend a lot of time in the bush (and I mean a lot) I guarantee you will find that every feature of a solid multi-tool at some point will come in handy. Now,  a multi-tool should never replace your mainstay tools such as an axe, knife, folding saw, etc. But it is always handy to have on you, should one of your main tools fail you.
The 4 best survival multi-tools available on the market today include; Leatherman Charge Plus Multi-tool, Gerber MP600, Leatherman Wingman, and the Victorinox SwissTool Spirit.
Let's expand into more detail to help you find the right multi tool for you.
The 4 Best Survival Multi Tools of 2021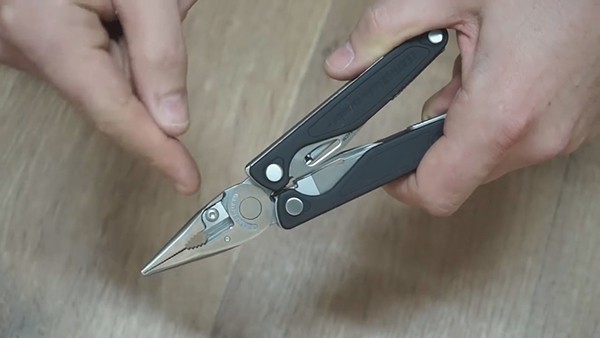 Leatherman has been creating some of the best survival multi-tools in the market for some years now. If you ask around most survivalist/bushcraft communities Leatherman is the brand they all trust the most and it's for a damn good reason. The Charge Plus series comprises a range of handy multi-tools that are practical and easy to use. Many people have chosen Leatherman over other brands because of its better design and length.
Charge Plus is a well-equipped tool chest that also comes with replaceable wire cutters. Also, the Leatherman is very easy to manage and comes with an ergonomic grip to make handling easier. With this tool in your hands, you can prepare to tackle any problem that life throws at you. Also, there are no chances of the multi-tool catching rust as it is made out of stainless steel.
This version by Leatherman will become your go-to multi-tool, right after purchase. No matter where you are- at home, at the campsite, in the bush etc. – the Charge Plus is made to suit all jobs. It also comes with a pair of changeable wire cutters to tackle any problematic jobs.
The Leather Charge Plus features the following tools:

Pliers
Wire cutters
Wire crimper
Stripper
Plain and serrated knives
Cutting hook
Saw
Ruler
Can and bottler opener
Files
Screwdrivers
I think it's safe to say that this Leatherman comes with pretty much any tool you will find yourself needing when out in survival situations, or even around the house.
2. Best Camping Multi Tool – Gerber MP600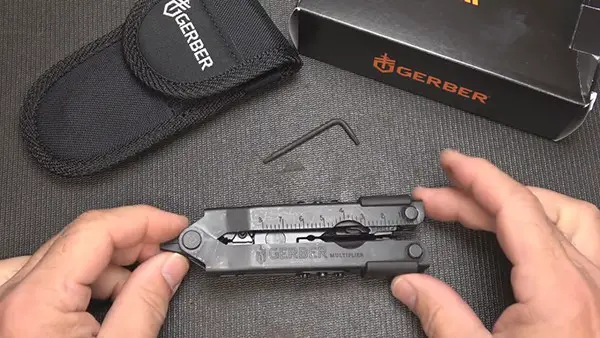 There are over a hundred reasons why this multi-tool should be in your bag at all times. This product by Gerber offers profound versatility. You can expect it to help you out in several situations. Additionally, Gerber guarantees fail-proof performance meaning that every tool in the device is entirely reliable.
In total, there are six models available. Among these, three come with the standard needle-nose pliers while the rest of them have a blunt-nose design.
This Survival multi-tool has been created by Gerber to stand the test of time. It also comes with a lifetime warranty. Since it is made of stainless steel, you can rest assured that it will never catch rust. What more, it has a ballistic nylon sheath, which helps to keep the tools ready at any given time.
No matter where you are, you will be able to use this tool conveniently and effectively. It includes:
Needle nose Pliers
Regular pliers
Pinch cut wire cutters
Patented one-handed opening
Saf.T.Plus locking knife and tools
Lanyard ring
Serrated knife
Can opener
Crosspoint screwdriver
Ruler
Wire crimper
File
Small, medium, and large flathead screwdriver
Bottle opener
Fine edge knife
The Gerber MP600 comes with a nice sheathe that you can attach to your belt for easy access.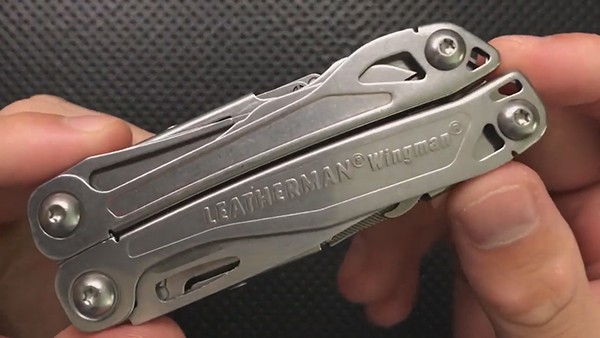 The third item on our list is another multi-tool by Leatherman. Established in 1983, Leatherman has continued to deliver quality products through all these years. Not only is this tool loved by its users, but it is also considered to be one of the best by its parent company. Whether you are on a campsite, hiking outdoors, or working at home- you can expect this tool to come in handy at all times.
If you are looking for a tool that is both inexpensive and versatile, then you should consider buying the Leatherman Wingman. This is the best survival multi-tool that can efficiently serve many purposes with its incredibly useful tools. Besides, it is not at all bulky and falls within your budget.
This tool by Leatherman comes with a 25-year guarantee. Leatherman has not been afraid to stand behind all its products, and the Wingman is no exception.
The leatherman wingman is a great piece of hardware to have. It is often referred to as Leatherman's economy tool, as it's crafted with lesser-quality steel, however, don't let that change your opinion. I've had a Wingman for 4 years and use it all the time. No rust and every tool still work exactly as it did when I first made the purchase.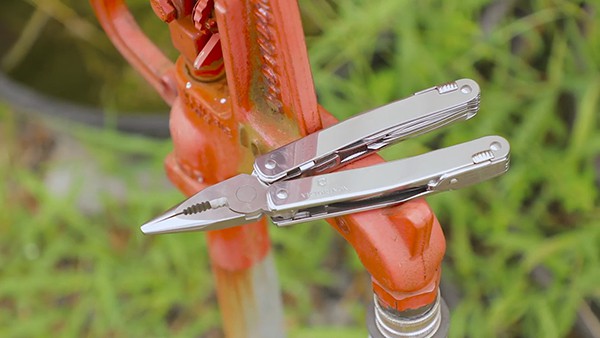 Our last entry in the list is this multi-tool by Victorinox. Not only is it highly efficient, but it also comes with a classy and sleek design. There is also an efficient handle lock that has a small spring-load release. Only the highest quality stainless steel is used to make the multi-tool.
It has been built to be rock-solid, without losing any of its visual appeals. It also includes the pair of opening pliers that have been patented by the company. It comes with 24 different tools, making it the most versatile addition to this list. The multi-tool can be used for everything- from cracking up a can of soda to can of hollandaise. The range of uses is genuinely versatile.
All the tools on this survival multi-tool have been made with high-quality steel. The steel used is annealed, tempered, and further polished to achieve the needed hardness. In addition, it is entirely resistant to corrosion.
The engineering on the Victorinox SwissTool spirit puts all the other brands to shame. Everything has a nice smooth snap feeling when pulling tools into place and there aren't a million different parts to hold dirt and liquid.
Survival Multi-Tool Buying Guide
Features to look out for:
In case you have to use your multi-tool for HVAC work and wiring projects, then you should opt for a version with scissors. However, if you are going to use your survival multi-tool for manipulating and cutting material, you should focus more on the scissors.
You could be an electrician or a survivalist,  a quality knife should always be an integral part of your multi-tool. Naturally, how thick or sharp your blade should depend mainly on how you will be using it- but it's always good to check the quality of your knife. Keep in mind just because your tool may have a knife blade on it, that should never replace your everyday knife for tougher tasks.
The number of tools found on your survival multi-tool varies greatly. These will start from 5-15 and might go up to as much as 27 tools. In any case, you should only try to get the tools that you will be using most often as more tools that you won't even use will just make the tool heavier and harder to carry. Especially if you are on a backpacking trip and trying to cut down the weight of all your gear.
The price range of survival multi-tools is honestly variable. The amount of money you spend will depend significantly on how often you will be using a particular tool. Naturally, if you will be using it only during emergencies, then you do not have to pay higher costs. However, if your job requires frequent use of the multi-tool, then you can consider investing the right amount. When it comes down to it overall, multi-tools are not too expensive when you compare it to other tools you may find yourself needing in the bush.
Type of Multi-Tools
Regular: These are small and efficient. Moreover, every tool should complete its purpose.
Keychain: These will be even more compact. The small size of the tools might make it difficult to use them.
Credit Card: These are only suited for emergencies. I don't recommend these for outdoor works.
In this review, however, I will be mainly focusing on the regular-sized multi-tools as these are the ones you will be taking with you into survival situations. In survival situations, a keychain or credit card multi-tool simply will not cut it.
How Should You Carry Your Survival Multi-tool?
The Survival Multi-tool can go on your belt for secure handling. If you feel that you will not be using it very often, you can quickly put it in your bag or pocket. The placement is primarily determined by how large your multi-tool is and what kind of job you're involved in. Personally I have personalized sheaths made that fit onto my belt and hold my multi-tool. If you are a big flannel guy like me, you could also keep it stored in your front pocket.
How Many Tools Should it Have?
You might find it tempting to buy a bushcraft multi-tool with as many as 50 different tools. However, if you are only going to use three or four of them, all the rest will only be a financial liability. Thus I recommend that you look for a tool that strictly fits your purpose. If money is no object for you, however, then I would suggest getting a nice multi-tool with multiple functions even the ones you think you won't use. Chances are, one day you will be faced with an obstacle that requires said tools and be thankful you have it on you even though you never thought you would need it. I've been there.
How does a Multi-tool Compare to Real Tools?
Multi-tools are very handy. However, they have limited functionality and cannot replace full-sized tools. A Multi-tool will serve as a backup of sorts, or to be used on smaller projects that do not require a full-sized tool. That's not to say they can not handle the job, but if you are going to fell a tree you are not going to use the little saw that comes in the multi-tool you are going to use your axe or hatchet. Trust me, I've tried and it's not a lot of fun.
Final Words

Whether you are going camping, backpacking or putting yourself in survival situations. It is always a good idea to carry a multi tool with you, at the very least as a back up if any of your main tools should happen to fail you and that can happen, I've been there. You don't necessarily need a multi tool that has every little doohickey known to man inside of it, you just need to figure out what you prioritize most when it comes to your needs and go from there.
I know when I am out on one of my long backpacking trips I always come home having used my multi tool more than a handful of times, you just always seem to find a use for them. So it's a good idea to always have one with you. Better safe than sorry as they like to say.
Many of us simply cannot do without a good survival multi tool in our bag of bushcraft tools. A good majority of people today are involved in tasks that require them to perform diverse tasks.
I hope this post helped you find what you are looking for.
Let me know if you liked the post. That's the only way I can improve.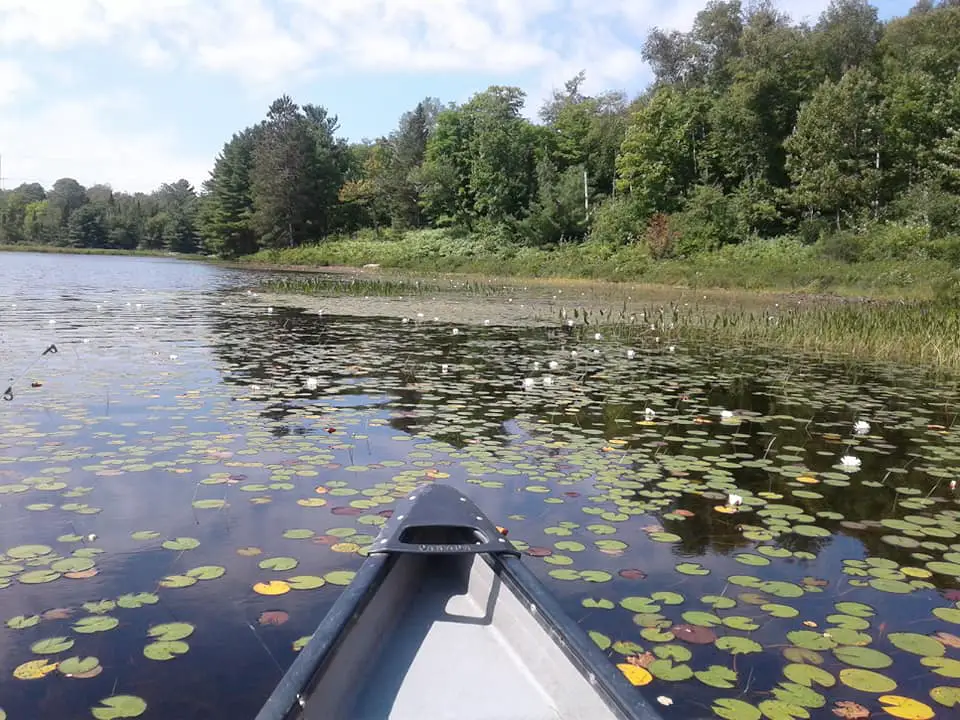 Hey I'm Josh! I have been practicing Bushcraft for a little over 6 years now! I Started this website to review awesome bushcraft gear that I love as well as share information I have learned along the way!