So you're thinking of buying a Morakniv (Also refereed to as Mora) knife and have narrowed it down to the Mora Bushcraft or the Garberg.
Both knives are great choices, but one may be better than the other depending on your intended use. In this article, I will break down the major differences between these very popular Morakniv knives.
Let's get started!
Key Differences
Now you'll notice from the chart below that there actually aren't that many differences between the Morakniv Garberg and the Morakniv Bushcraft when it comes to weight, length and blade size. There are only really three major differences.
The first difference between the Morakniv Garberg and the Morakniv Bushcraft is the handle. The Garberg handle is made out of Rugged Polyamide, which is both very comfortable and extremely durable. You'll likely never have to worry about the handle breaking on you, as the Rugged Polyamide it's made out of is made to withstand impact. The Mora Bushcraft Handle is made out of Rubber, still comfortable to grip, but it is much less durable than the Rugged Polyamide you'll find on the Garberg.
The second and frankly the biggest difference between the Mora Garberg and the Mora Bushcraft is the blade. Both knives are fixed blade knives, but only the Mora Garberg is a full tang knife. Full tang means a solid piece of steel is running down from the blade through the handle, increasing the strength of the blade and allowing it to handle tougher tasks without breaking.
The third key difference between these two Morakniv knives is their price. The Garberg is the more expensive of the two, but with good reason, you are paying for both a higher quality handle and a full tang blade. The Morakniv bushcraft will definitely be able to handle most tasks you ask of it, but it simply won't last as long as the Garberg.
| | | |
| --- | --- | --- |
| | | |
| | | |
| | | |
| | | |
| | | |
| | Stainless or Carbon steel available | Stainless or Carbon steel available |
| | | |
Morakniv Bushcraft Review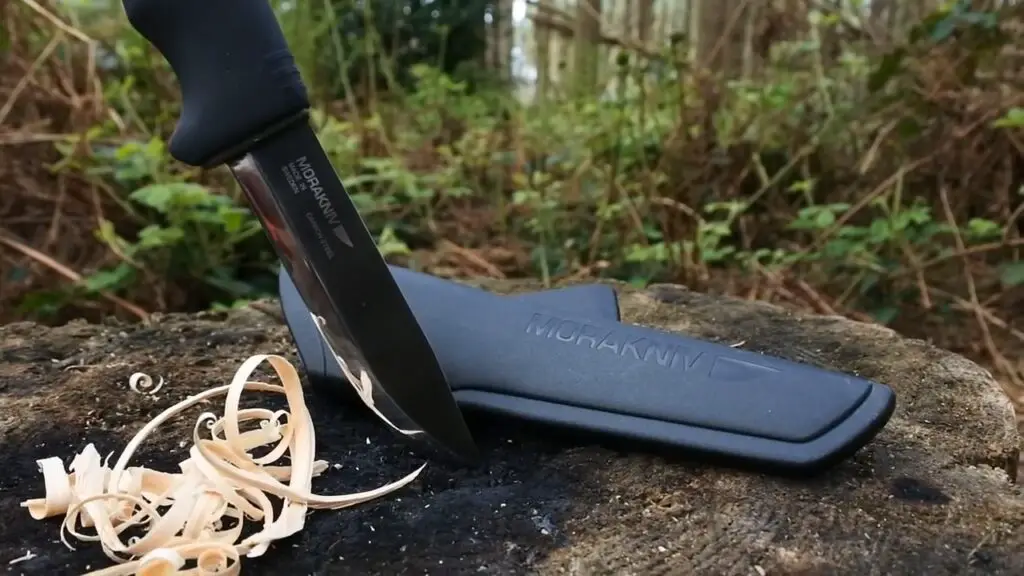 If you are looking to get your first knife for camping or bushcraft, the Morakniv Bushcraft is a great choice.
The Mora Bushcraft can be had for a very reasonable entry level price. You can choose between either Carbon or Stainless steel (I prefer stainless) and the handle fits nicely in the palm of your hand. Like most Mora knives, it came sharp out of the box and is a very easy blade to keep sharpened.
I had no issue creating feather sticks for kindling and the back of the blade can be used to strike a ferro rod which is a great bonus. Carving was a breeze, and I was able to successfully baton wood, although I prefer not to do much of that unless the blade is full tang, which isn't the case for the mora bushcraft.
Would I carry a Morakniv bushcraft knife as my only knife if I were going on a pro-longed trip into the bush? Probably not. The dealbreaker here is that this knife is not full tang, and I do not want to be out in the middle of nowhere without a knife should it break. However, the Mora Bushcraft is great for short camping trips and practicing your knife skills at home.
Morakniv Garberg Review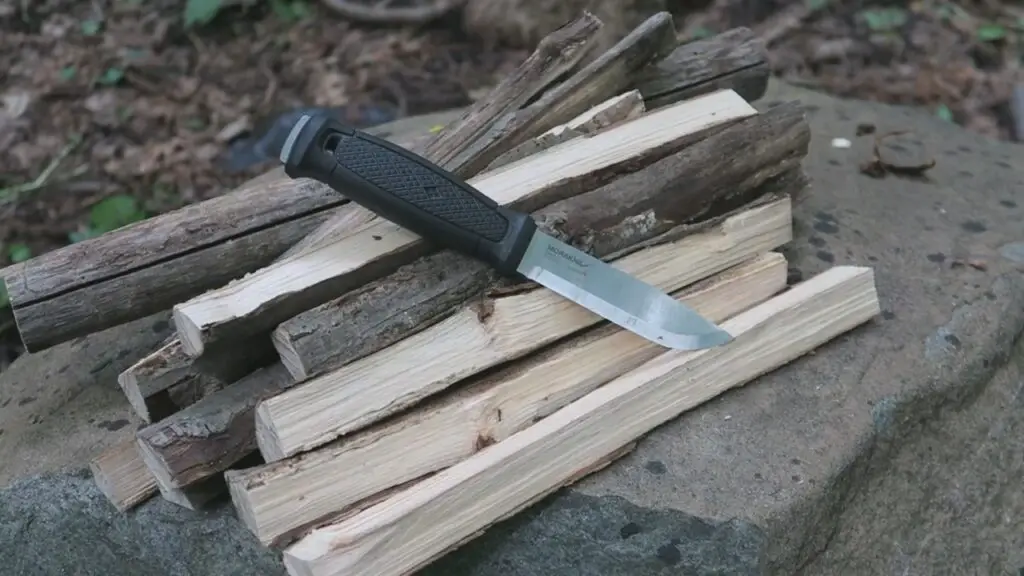 The Morakniv Garberg is one of my favorite knives to use for a few reasons.
Having a scandinavian grind blade, the Garberg holds an excellent edge and is very easy to sharpen. The handle is super comfortable and doesn't ever cramp my hand after hours of use. On top of being very comfortable in your hands, it's also very durable.
You can use the Garberg to do anything from carving up feather sticks to batoning wood. Batoning wood is something you would not be able to do with the Mora Bushcraft for too long before it gets damaged because unlike the Garberg it is not a full tang knife.
What's really impressive about the Mora Garberg is its value, you aren't likely going to find a knife of this quality for the price. In its price range, the Mora Garberg is king of the hill.
Morakniv Carbon vs Stainless Steel
Both the Morakniv Garberg and the Morakniv Bushcraft have a carbon steel and a stainless steel variant. But which is better?
Both are a great options and have their own pros and cons. A carbon steel Morakniv knife will hold an edge better and be slightly easier to re-sharpen than it's stainless steel counterpart. The stainless steel versions will not rust, whereas if you do not take care of a carbon steel blade it can be corroded, especially if you are around salt water.
I prefer stainless steel, and really what it comes down to is personal preference because there aren't any MAJOR differences that would catapult one to being better than the other.
Final Verdict
The verdict is in. Both Mora knives are quality knives that will be able to take on almost any task you ask it to. The key difference here is longevity and durability, in these two categories the Morakniv Garberg takes first place. The combination of it's full tang blade and Rugged Polyamide handle will ensure that it outlasts the Morakniv Bushcraft.
If you don't have the extra money to swing for the more expensive Garberg don't worry, the Bushcraft is still a very capable knife that should last you a couple of years if properly maintained.
Let me know if you liked the post. That's the only way I can improve.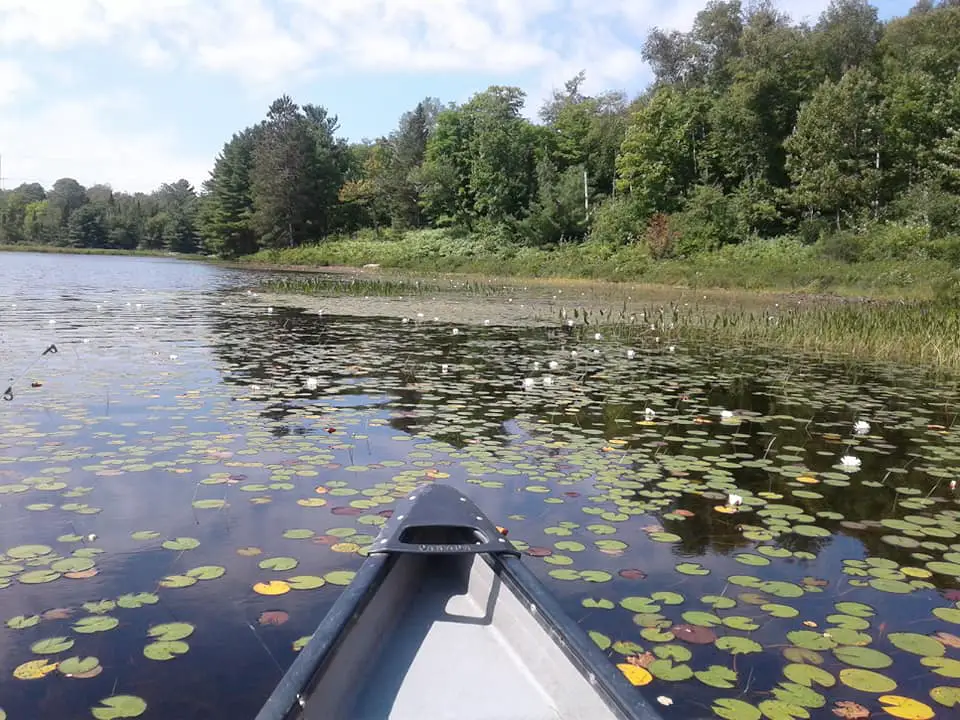 Hey I'm Josh! I have been practicing Bushcraft for a little over 6 years now! I Started this website to review awesome bushcraft gear that I love as well as share information I have learned along the way!