Perhaps no tool in the bushcraft world is much more important than your trusty backpacking hatchet. A backpacking hatchet needs to be lightweight enough to carry around on long treks and small enough to fit in your rucksack, but at the same time, it also needs to be able to pack a punch and get the tough tasks done for you. Finding the best backpacking axe can be a balancing act, luckily for you, I have done extensive research to narrow it down for you.
The best backpacking hatchet is the Hults Bruk Tarnaby 15 Inch Hatchet, this compact hatchet is fairly lightweight and easy to carry around. It comes with a Sheath and Duluth Pack Axe Holder Bundle making transport that much easier. The hatchet head is sturdy and sharp, though you will need to give it a good sharpening out of the box like most hatchets. For the price and quality you are hardpressed to find a better pack axe for your travels.
The Best Backpacking Hatchet Full Review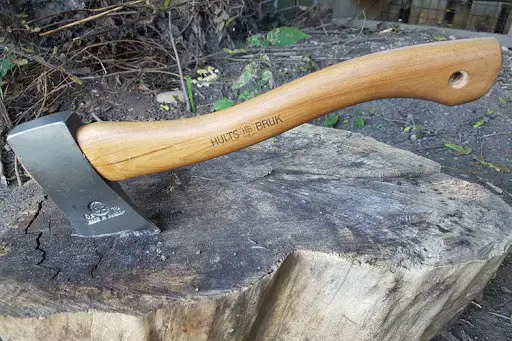 The Hults Bruk Tarnaby 15 Inch is the best backpacking hatchet for your bushcraft backpack in my opinion. It's a versatile tool that is made from the best quality Swedish steel. This pack axe is perfect for any light camp work such as making kindling, splitting wood, carving things like spoons or even bowels.
Famous for its strength and durability, this axe has a super sharp edge that stays for a long time. Equipped with an American hickory handle that is treated using linseed oil, it gives you a comfortable grip.
This lightweight and compact hatchet will be easy to carry in your rucksack without any issues. You can pack it with your bushcraft gear and take it with you for all your future trips into the bush.
The Hults Bruk Tarnaby 15 Inch also comes with a protective sheath that is made from traditional leather. This keeps the axe safe and protects it while you are carrying it with you.
Top Features
Overall Length: 15″

Blade Length: 3.25″

Blade Material: Swedish Steel

Handle Material: American Hickory Wood

Blade Thickness: 0.60″

Sheath Material: Leather

Handle Thickness: 0.99″

Weight: 2.2 lbs

Head Weight: 1.25 lbs
Finding the Best Backpacking Hatchet.
Are you searching for a Good Backpacking Hatchet that can be used as a good camping hatchet or Bushcraft hatchet? Chances are that you have been overwhelmed with the indefinite options that you have seen in this category.
Even though a good bushcraft knife would do most of the tasks, a pack axe would be so much better and faster for tasks such as making kindling or chopping wood, an axe is a perfect option. However, for this, you need a high-quality axe and not just any cheap one.
Though an axe is a heavy tool to carry, the value that it would give you would compensate for the extra load. To help you decide, we have explained the importance of a good axe and what features you should specifically look for in your backpacking hatchet.
Importance of Having a Pack Axe

Backpacking in the bush is really fun as you can expose yourself to the wild and take in never before faced challenges. Once you plan to start your trip, there is no turning back, and you have to be prepared for whatever the path throws at you. It's important to have your best backpacking hatchet with you when out in the bush.
Backpacking hatchets are one of the most important bushcraft tools that you should have in your rucksack. Not only will it keep you safe and secure, but it will also end up being very useful in many different scenarios. It's always a good idea to have one on you.
If this is your first time backpacking/adventuring into the bush, then you might be confused as to why you need to carry a hatchet when a knife can do the same job. However, this is not completely true since a knife has its restrictions, which the axe does not.
The pack axe is much more efficient for splitting or chopping wood to get a fire going with your bushcraft fire starter. If you want the work done in half the time and in a much better way, then a pack axe is what you should opt for.
Hatchets with a sharp blade will be able to chop wood in no time, and you would have your fire fuel ready. Moreover, you do not have to put in as much effort with the axe. Even if you are not a pro, it will take just a few tries for you to understand the mechanics of handling this tool.
You can build a shelter even without a hatchet, but having it would surely make your work a lot easier. Without a hatchet, you would have to waste more energy to cut the branches and limbs that you need for your shelter.
It is no surprise that you would need to ensure that you stay energetic and fit all through your trip. So it would be a bonus to have a tool that can help you do just that. The pack axe will help you build your shelter in a very short time.
One very important reason to carry your best backpacking hatchet with you is or safety. Whether you are alone or with a group, you will never anticipate the kind of danger that you may face during your trip. This is why it is necessary to have a weapon handy with you.
However, it is advisable to learn how to use a backpacking hatchet correctly so that you don't harm yourself in the process. Whether you are using it for chopping wood or saving yourself, make sure that you do it the right way.
There are several other uses of having a backpacking hatchet such as chopping food, making a splint, or even a spear. Even without knowing all the uses of a pack axe, you can understand that it is a tool that you should have with you during your trip.
Things to Look For In a Backpacking hatchet

Are you determined to buy the best backpacking hatchet but unsure about which one to choose? Then the easiest way would be to know which features to look for in the chosen axe.
The length of the hatchet is a very important criterion that you should keep in mind while choosing your backpacking Hatchet. Hatchets with a long shaft would be easier to use and generate more speed while swinging.
This means that you would have to put in less energy while you are chopping. However, a long handle also means a heavy hatchet. Short handles are also fine if you want to use it for chopping smaller items.
However, the length of your axe handles should be according to your comfort. If you are comfortable using a longer shaft, then there is nothing to worry about.
The balance of the hatchet would impact its performance, which is determined by the weight of the hatchet head on the handle. You can also understand the balance by trial swinging the hatchet. Something to consider when picking out the best backpacking hatchet is, what may feel comfortable in your hands may not be the same for someone else.
Generally, a backpacking hatchet which has a curved shaft would be comfortable and have more balance. This is because your hands would be placed below the edge of the axe. This will also help you to get the maximum effect without putting in much strength.
A backpacking hatchet is generally a heavy tool, and heavy axes have better performance than the lighter ones. If you are unable to carry a heavy axe, then you can opt for a lighter one. However, you will not have the same experience that you would have had with a heavy axe.
Similarly, a smaller axe size means that the handle is also small, which will not give you the desired performance. It is better to choose an axe that is slightly heavy and has a long shaft so that you can make full use of it.
This is a very common feature and a must-have for tools such as a backpacking hatchet. Your best backpacking hatchet would be a sharp-edged hatchet that will reduce your work-effort and make things easy for you. It can be frustrating using an axe that is blunt and takes ample time and effort to chop wood.
Additionally, the sharpness of a blade is decided from the quality of steel that it is made from. Hence, you have to make sure that you choose a backpacking hatchet that is only made from high-quality steel.
When you are choosing a backpacking hatchet, you get what you see and pay for. The best backpacking hatchets are made from the best quality steel will be extremely sharp and durable. They will come at a price, and you will be able to use it for a long time.
The design of the axe also plays a big role in the price of the tool. If you are prone to taking trips, then it is always better to invest in a slightly higher priced hatchet. However, if you are an infrequent backpacker, then you can opt for a cheaper backpacking hatchet.
However, no matter what the price, you should be cautious that the backpacking hatchet can fulfil your needs. It would be a waste of money to invest in a cheap tool and then have it damaged only in a single-use.
Summing Up
Choosing the right backpacking hatchet can be a confusing decision, but you will not regret investing in one. The Hults Bruk Tarnaby 15 Inch is one such tool that comes with all the necessary features that should be present in your ideal backpacking hatchet.
This versatile tool is suitable for heavy-duty use and has a comfortable grip which will be easy even for the first-timers. Available at an affordable price, this durable tool can be your trip partner for life.
Even if you are opting for any other backpacking hatchet make sure that they fulfil the necessary criteria. Once you have your axe, make sure that you follow certain safety precautions if you want to keep all your fingers.
You can watch video tutorials on how to safely use a good backpacking hatchet. You can also take the help of an expert if you know one.
Let me know if you liked the post. That's the only way I can improve.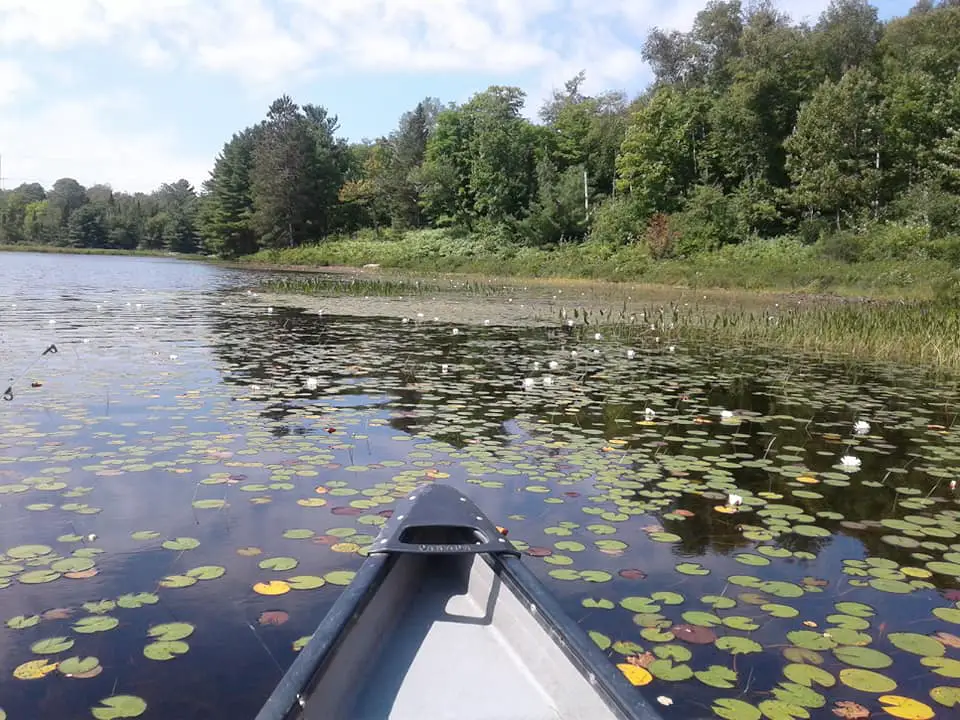 Hey I'm Josh! I have been practicing Bushcraft for a little over 6 years now! I Started this website to review awesome bushcraft gear that I love as well as share information I have learned along the way!