I try out a lot of different bushcraft gear, it's my passion.
What's been on my mind lately is boots, I have tried a wide variety of them over the last year to prepare for this blog post and now feel like I have the proper experience to tell you what I think are the best pairs of bushcraft boots you will find in 2021.
Without a doubt, the best bushcraft boots you can get in 2021 are the KEEN Men's Targhee II Hiking boots. The Targhee II boots offer amazing arch support and are super comfortable while being built to last. They keep your feet dry as they are made from nubuck leather and are treated with a water repellent. You certainly will not be disappointed with a pair of these bushcraft boots.
Now, if those do not float your boat I have also put together a list of other boots that I have personally tried and loved.
1. KEEN Men's Targhee II Mid Waterproof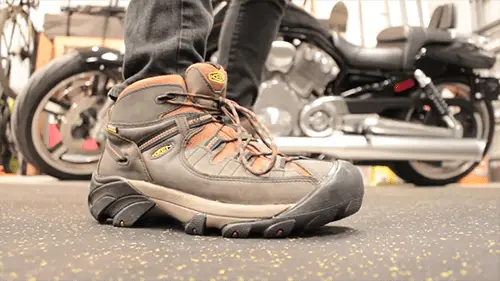 This pair of hiking boots from Keen is one of the best pairs of boots I've ever used throughout my trips.
KEEN Men's Targhee II Hiking Boots are excellent for hikers, bushcrafters and anyone else who spends lots of time outdoors.
They breathe very well & come in 6 different combinations of colors. The rubber outsole provides a high-traction grip making them suitable for most environments. A good deal for under $150.
These boots are made from nubuck leather and are treated with a water repellent that is safe for the environment. The company claims to have a breathable membrane that lets vapor out but does not let any water in. Also, it has very strong rubber protection in front, which will prevent your toes from getting hurt.
This particular pair of bushcraft boots have a non-marking rubber outsole that helps them shine throughout different kinds of rough terrain. The stability offered by the ESS shank can help you to power through any surface. The multi-directional lugs give a great grip and do not wear off easily.
Keen men's targhee II waterproof hiking boots have a wider section for the toes. So, whether you have wide or narrow feet, it will still be comfortable.
This pair is light and durable. The leather that is used can be credited for the durability. The company recommends extra care to be given to the leather. A leather cleaner and conditioner will work to keep them in good shape.
Best of all, they can be had for a reasonable price.
2. Salomon Men's X Ultra Three Mid-GTX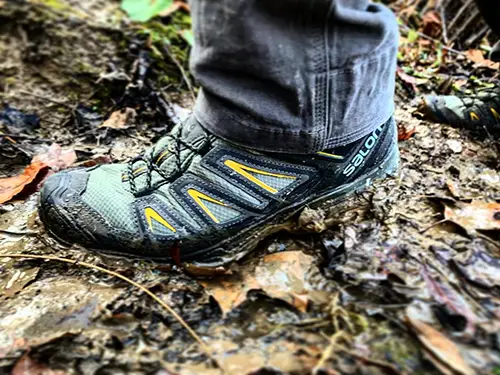 Salomon is an iconic brand. The comfort and durability that come with this pair sell themselves. They are great for hiking trips, and Salomon claims that treading downhill with their newest model of X ultra 3 mid-GTX hiking boots is easy because of its descent control technology. It has one of the best grips and can hold you with great traction and smoothness in every type of terrain.
They come in 3 different combinations of colors and have a traditional lacing system.
This pair can be a good choice if you are looking for something light.
The company makes it with and without Gore-Tex waterproofing to make them a pair of waterproof boots
The Salomon men's X ultra 3 mid GTX hiking boots can be used on rocky, muddy, wet, or snowy terrains in all conditions. The soles provide great grip, and even after a lot of use, the lugs will still remain intact.
Salomon Men's X Ultra three hiking boots have foam cushioning for extra comfort. This is directly connected to the sole to give better stability. The breathable lining and molded insole add to the comfort. They are not stiff and are comfortable right out of the box. The cushioning around the ankle and the rubber that covers the front of the foot, provide ample ankle protection.
You really can't go wrong with a pair of Salomon's.
3. Vasque Men's Sundowner GTX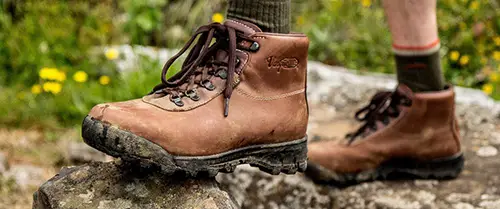 Vasque is a trusted brand and has many satisfied customers. The men's sundowner Gore-Tex boot has great durability and stability. The reason why it has been a valuable brand in the market is because of its simple yet strong build. Essentially, it does not compromise on comfort and fit and defines the perfect hiking boot.
The sundowner boots are available in 3 colors, namely Red Oak, Jet Black, and Hawthorne. Moreover, this pair of boots comes at a good deal within its price range and has a 1-year warranty.
They are made of leather and come with Gore-Tex waterproofing. These are ideal for hiking, camping, and backpacking. You can walk into a mushy area without worries. Plus, the lace-up design is made for speed lacing and has D ring hooks. In addition, they have a molded polyurethane midsole and a TPU midfoot stabilizer.
Like any other pair of brand-new shoes, you may have to break them in for a short period but that is to be expected. If you keep using them over time, the boots become more comfortable, and you will have no complaints.
The molded polyurethane midsole ensures comfort and flexibility. Also, the TPU midfoot stabilizer contributes to providing a comfortable experience. The full-grain leather and Gore-Tex waterproofing make them durable. You can use them in wet conditions on rocky and muddy terrains, they are engineered to be tough.
This pair of boots reaches up to your ankles, giving good ankle support.  The cambered rubber soles prevent slipping while walking on slippery surfaces. As a result, they can be trusted for good grip, and wet rocky paths need not scare you. The sturdy yet comfortable design has been a great advantage for hikers.
4. Danner Men's Mountain 600 Full-Grain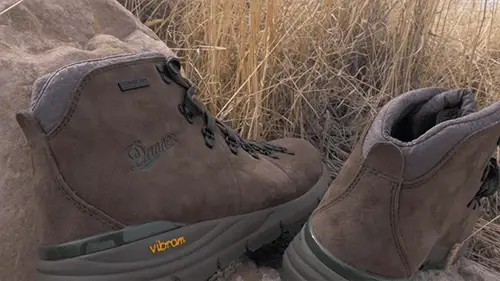 Danner has a reputation for producing some of the best bushcraft boots, and this might be one of them. This pair of lightweight, sturdy, and high ankle boots is specifically made for hiking. Also, it has quite a good looking design. This modern look, along with its durability makes a pair that are hard to resist.
The company recommends that you buy half a size lower than your actual size as they run a little large. They come in various colors and have a 1-year warranty.
This footwear is made of full-grain leather and has a waterproof barrier. Other than the full-grain, you have the option of buying suede leather as well. The OrthoLite footbed is made of three layers. The material used for these layers is polyurethane, which enhances air circulation. And the midsole is made of rubberized EVA and has a very flexible rubber built.
The layered footbed provides maximum comfort. Even though the boots are sturdy and tough, they manage to be flexible. It brings you the comfort of wearing running shoes. They do not require a lot of break-in time, and you do not have to worry about blisters.
The Vibram outsole has lugs that can adapt itself to wet conditions and dry terrains to give the best performance. The stability and support that these offer are sufficient for long-duration hiking trails. Also, with some regular care, they can last a long time.
These Danner boots are durable, whether you use them often or once in a while for your outdoor adventures. It will take a lot of work to wear these out even after enduring different climates and long rough terrains.
5. Hi-Tec men's altitude V I WP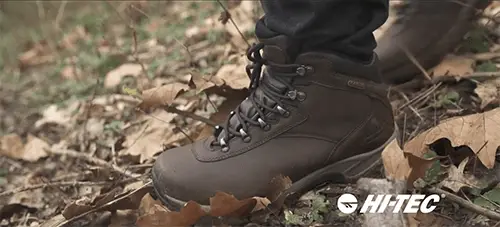 This pair is affordable and have all the features that a good pair of bushcraft boots need to have. It looks really stylish, and the waterproof feature steals the show. This classy looking pair comes in 4 different colors and deserves to be on the list of best bushcraft boots.
These boots are made of leather and synthetic high-quality materials and are waterproof. It is powered with i-shield technology that repels water and makes it resistant to stains and dirt. It also comes with a breathable membrane which allows for faster drying. A great advantage during long hikes.
The boots have a rubber sole. The rugged outsole ensures a better grip and will let you hike without worrying about the surface. The Hi-Tec boots are a fit for all kinds of terrains.
The shock-absorbing midsole gives better cushioning and stability. For extra comfort, there is an OrthoLite sock liner. This sock liner is enhanced with anti-odor and anti-microbial properties.  The nylon fork shank does not add unnecessary weight to the boots. It maximizes flexibility and comfort.
Another added advantage is how light these boots are. It fits right out of the box and did not take a long time to break-in.  However, people with wider feet might face some difficulties with respect to comfort as the boots are narrow.
The rings for the laces are made from rustproof metal. You won't have complaints about the rings breaking off early or rusting, and it makes the boots durable. The material is tough and can get through basic wear and tear.
What are the things to consider while looking for bushcraft boots?
If you do not have a pair of sturdy and stable boots, there is a chance that you could fall and hurt yourself. Also, you will be wearing these for a long time, so if they are not comfortable, you might end up hating your outdoor adventures.
Before buying bushcraft boots, you need to keep a few things in mind. The kind of soles, protection, and stability are obvious aspects. What else do you have to look out for?
Terrain
Some boots specialize in winter terrain others specialize in rocky terrain. Contemplate the kind of terrain that you will be hiking on and buy suitable pair. It is very important you understand the capabilities of your boots to avoid accidents.
Comfort
Comfort is fairly important when it comes to selecting a pair,  nothing is worse than hiking in an uncomfortable pair of boots. A comfortable pair of boots need to provide good ankle support and cushioning for the best experience.
Durability
After you pay a good amount of money for a pair, you want to be able to wear them for a few years without having to worry about them falling apart. To ensure durability, make sure that the boots are made of good quality materials. The way you use them will also affect its lifespan.
Final takeaway
A nice pair can make your whole adventure a lot better. You don't need to pay a lot of money to get a good pair. Good quality affordable boots are out there. All you need to do is make a choice and go get a pair that is suitable for you. Hopefully, this post has helped you with that decision.
Let me know if you liked the post. That's the only way I can improve.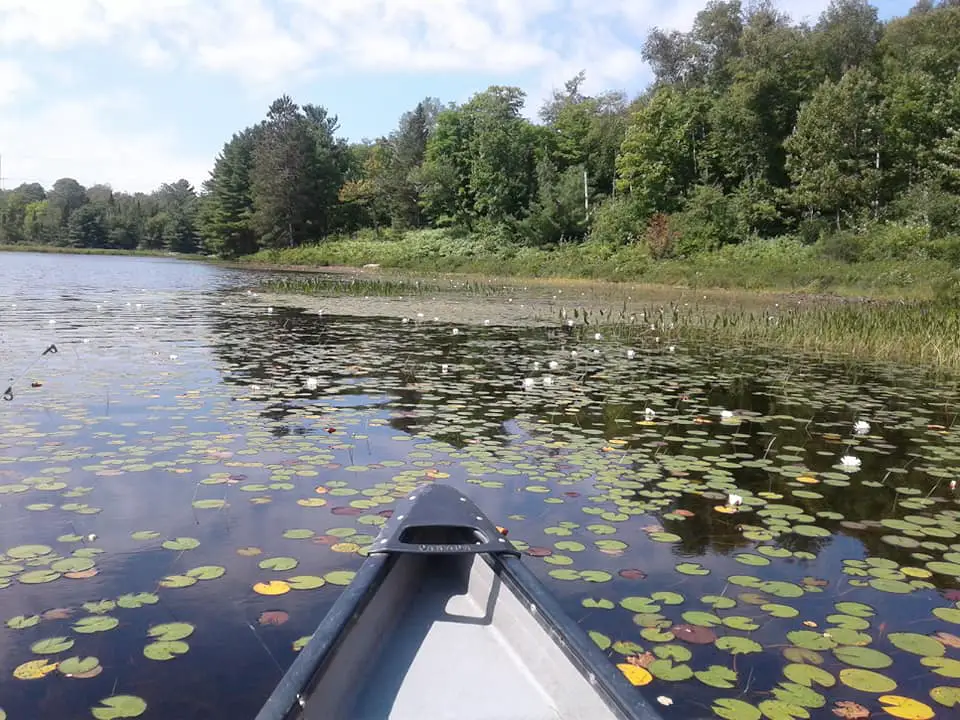 Hey I'm Josh! I have been practicing Bushcraft for a little over 6 years now! I Started this website to review awesome bushcraft gear that I love as well as share information I have learned along the way!