When out in the bush you are going to want more than just a simple pair of jeans, these pants I'm about to discuss are perefect bushcraft pants that often offer far superior comfort, flexibility, and durability.
For those of you who like to spend your free time adventuring in the wilderness to practice bushcraft, you are well aware of the necessity for not only comfortable clothing but durable clothing as well.
To make sure your trip is a fun and memorable experience rather than an uncomfortable and miserable one, you need to be sure you have a pair of proper pants for bushcraft.
Reviewing The 5 Best Bushcraft Pants [2021]
Here is my review of the 5 best bushcraft pants I have tried, along with some crucial things to know.
1. Helikon-Tex Men HOP Hybrid Outback Pants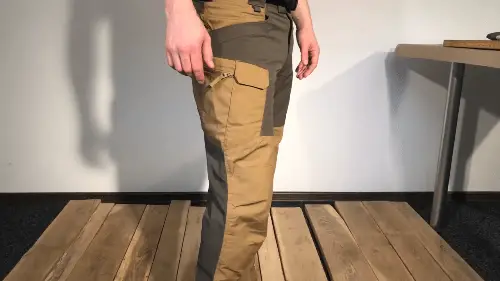 These pair of pants are yet another remarkable product from Helikon that don't fail to leave a lasting impact. The pants are manufactured from two main fabrics, they are- DuraCanvas and VersaStretch. This top-notch quality blended fabric of the pants enables it to deliver more exceptional performance than any other pair of bushcraft pants in the marketplace.
To enhance the resilience of the knee region, the pants come with internal pads known as the knee paddings. They provide cushioning to your knees that work wonders.
The pants have a spectacular level of durability to withstand or adapt to all kinds of hostile environments. The fit of the pants is comfortable and baggy without it being too lose. In addition, the waist has several belt loops, which besides supporting the weight of your belt, acts as an extra outdoor storage space for tools through inclusive D-Rings.
To provide relaxed fir around the crotch, it is designed with an OTP or UTP cut. This contributes to increasing your mobility and convenience during your expeditions.
Helikon-Tex - Hybrid Outback Pants®
2. Fjallraven Vidda Pro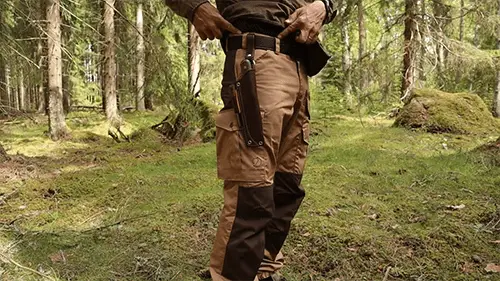 These bushcraft pants are made by the Swedish company, Fjallraven. The pants are designed with G 1000 fabric. To increase these pant's durability, it's further blended with 65% polyester and 35% cotton. These bushcraft pants are also treated with Greenland wax to make it water-resistant, they are great in wet weather.
These pants are made to wear on multiple occasions that range from trekking in the backcountry to doing some heavyweight work in your yard.
Fjallraven Vidda Pro pants are designed for you to be able to wear them during both warm AND cold weather. For instance, you can wear them while hiking a snow-covered mountain or during your summer bushcraft trips in the wilderness. You can rely on these pants to provide warmth and keep you dry. However, they do get a little warm in warmer weather
These bushcraft pants do not stick to the skin. They have a baggy fit or an ill-fit, which makes them breathable. The knee region of these pants is specially created to enhance its durability as it is often one of the most vulnerable parts of any pair of pants, this will make sure your pants stay intact and do not rip when you kneel down to create fire, work on the shelter etc.
The pants are fitted with multiple pockets for maximal storage. The two standard front hip pockets are large enough for your hands to fit in. A huge cargo thigh pocket is present on the right side, which has a mesh divider. Furthermore, two overlapping spacious pockets are also present near your left thigh.
Fjallraven Vidda Pro Pants | Review
3. CQR Men's Tactical Pants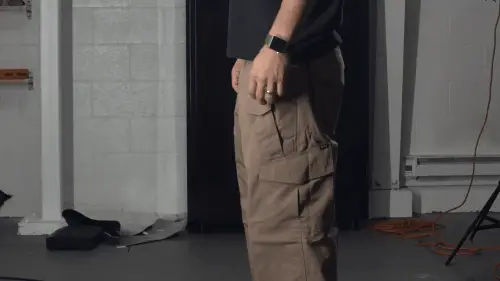 As a company, CQR has always been striving to continuously improve its products until they deliver 100% consumer satisfaction. These bushcraft pants are Made of 79%, polyester, and 21% cotton, and I have to tell you they are some of the most comfortable pants I have ever worn, let's get into more detail.
The pants have an elastic waistband, which allows them to fit around your waist perfectly, most people including me always wear a belt when in the bush to hold our bushcraft knives but these pants fit snug without the use of one if you ever opt out of wearing a belt after a big meal. Furthermore, the loops around the waist of these pants have D-rings. These metallic rings make it easier for you to hook your bushcraft tools including your knife from your waist.
In total, these bushcraft pants have 12 big pockets strategically placed to provide adequate storage and convenience. The pockets at the back are secured with the aid of a velcro flap. This makes sure your items are safeguarded without hindering your access to it. Moreover, the pants also come with separate "mag pockets" which is to be expected as they are "tactical pants" I just keep my phone and other items in them, however.
These pants are designed to be fade, shrink, and wrinkle resistant. These features contribute to the durability of the pants and also help the pants last long term. Which is nice, because having to buy new pants when the pair you JUST bought get ruined is not a fun experience.
4. Eddie Bauer Men's Guide Pro Pants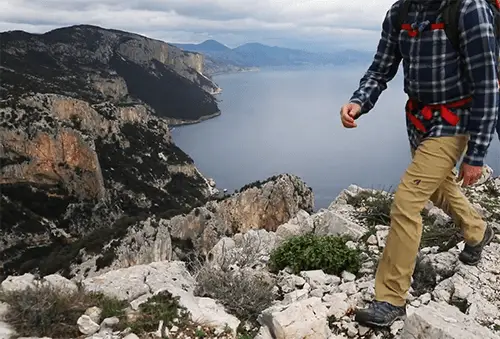 The Guide Pro Pants tick all the boxes when it comes to looks, quality, design, and comfort. They are made from a spandex and nylon combination, in addition, Eddie Bauer's "Flexion Stretch Woven Technology" makes the material of this pair of pants both stretchy and smooth. These pants are made of very breathable material that also repels water. The guide pro pants are also super lightweight and won't weigh down your pack.
I have worn these pants for a little over 3 months and I have to say they are one of the most comfortable pairs of bushcraft pants I have ever owned which I think is thanks to the overall "athletic fit". This means that the pants fit a little closer to your body without tampering with your mobility. The knees on this pair of pants are articulated, and the calves are also adequately trimmed. A stretchable waist further allows a comfortable fit.
To make this pair of pants wearable during the summer season, this pair of bushcraft pants come constructed with a new sun protection technology. The FreeShade UPF 50+ acts as a barrier to safeguard you from the harmful UV rays when performing outdoor activities.
Machine wash and tumble dry are advised to preserve the fibers of these pants, after a few washes I have no issue with durability. As for the warranty, the Eddie Bauer store has a great consumer service and return policy to support your purchase.
5. Helikon-Tex OTP Outdoor Pants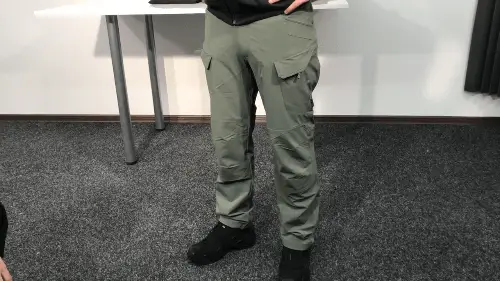 An outdoor pant that is produced for optimum performance- be it in or out of the bush. These bushcraft pants aim to work throughout all four seasons, provided there no extremities in any of the seasons and they do just that while providing maximum comfort. They are also a little warm during the summer months but nothing too drastic.
The pants have a total of 6 pockets that are placed to provide manageable accessibility and substantial storage. There are two large back end pockets; two small pockets placed on either side to store minute items, for instance, folding bushcraft knife, flashlight, and more. Furthermore, there are two other wide cargo pockets have zip lock pockets to secure your storage.
The waist includes 7 belt loops, 2 of those have additional loops for securing your bushcraft gear you wish you carry on your waist. The waistband also has great elasticity and is secured with a velcro flap.
Much of the design and fit is an inspiration from a regular denim jean, just you know, with a lot more comfort.
Buyers Guide for The Best Bushcraft Pants
Are you confused about how to choose the best pair of bushcraft pants for yourself from the wide variety available in the marketplace? Then below I have noted some factors that will help you make the right decision.
Material
Perhaps, the most fundamental thing to consider is the material of a pair of pants. This determines the durability and quality of the performance of the pants. There are a range of fabrics you can choose from, for example, nylon, cotton, polyester, and more.
Some fabrics come with avant-garde features that give it resistance to water, wrinkle, shrink, etc. Generally, for outdoor purposes, you need to invest in a pair of pants that can sustain rugged topography and extreme temperatures.
Fuirthermore, some materials may offer better protection than others.
Zipper
A working zipper secures your waist and many of your pockets. The zipper should be of premium quality so that it doesn't jam frequently. Moreover, the zipper should be deliberately placed to ensure maximum comfort.
If you're uncomfortable with zippers, then many of the best bushcraft pants I spoke about in this post have a velcro strap and elastic bands to secure the waist.  They give you considerable flexibility for waist fitting adjustments.
In some cases, there are zippers placed around the ankle region, too, to enable ventilation during hot weather.
Storage
When you're camping or out practicing bushcraft, it's a smart idea to pack lightly. This means that your bushcraft backpack will only carry the essentials that you cannot carry yourself. And so, your pockets are the next best storage spaces.
These accessible pockets should be durable so that they can handle the weight of heavy objects. It's also better if the pockets come in various sizes to give you the flexibility to store small and big bushcraft tools. Be sure to find a pair that comes with rear pockets.
Fit
This factor depends upon your comfort level with different fits. If you like loose fitting then a pair of bushcraft pants with a baggy fit around the legs, and firm around the waist will be a perfect match for you. Ideally, the pair of pants should have an athletic fit to allow you to have complete mobility. The autonomic cut around the crotch should also be considered before you make the purchase.
Also, evaluate the weather conditions and other environmental factors before you decide the appropriate fit for you. If the area you are in tends to have lots of wet weather, take that into consideration.
Maintenance
Investing in anything new can be a skeptical task. You need to ensure that in the long run, the value of the product matches its performance. This value includes the standard cost of the pant and its further maintenance. Some of the fabrics are delicate and can easily wear off either during the activity or if they are not accurately taken care of.
This means dry cleaning, different steps for washing, and so on. Not only is this time consuming, but sometimes expensive too. Pants that are suitable for machine and hand wash plus quickly dries is the ideal low maintenance pair of pants for you.
Conclusion
You must do meticulous research about the product and the brand manufacturer before you make any purchases. The pointers above will guide you to select or cut down your options for the best pair of bushcraft pants to a considerably lower number leading to you ending up with a nice comfortable, durable pant.
For my money, the Helikon-Tex Men HOP Hybrid Outback Pants are the top-recommended bushcraft pants among the others on the list. It is because obviously, they have no major cons, designed with an innovative approach, and have reinforced knee caps and storage pockets. The fit is ideal for men of any size and shape.
Amazon and the Amazon logo are trademarks of Amazon.com, Inc. or its affiliates.
Let me know if you liked the post. That's the only way I can improve.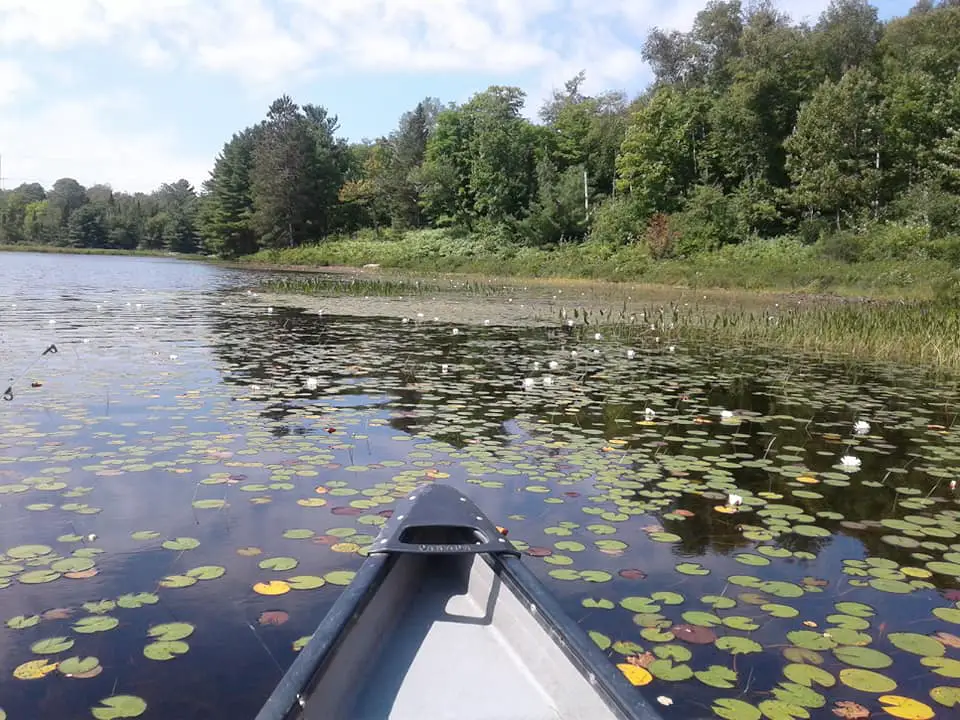 Hey I'm Josh! I have been practicing Bushcraft for a little over 6 years now! I Started this website to review awesome bushcraft gear that I love as well as share information I have learned along the way!