Hats are an essential piece of gear for anyone who wants to journey into the wilderness to practice bushcraft. A good bushcraft hat is essential for protecting your head from the sun, rain, wind, and other elements.
I have tried a slew of hats throughout my years practicing bushcraft. Out of all of them, I currently keep these four in my rotation.
The Best Hats For Bushcraft
1. Tilley T3 wanderer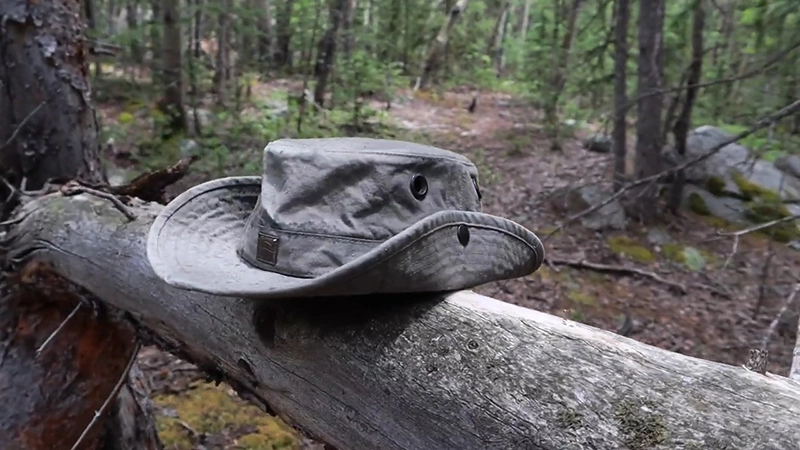 Once you know what a Tilley hat looks like, you'll start to notice them everywhere when you're hiking, backpacking, camping etc. So much so that it's become its own little thing between Tilley owners, if someone spots you wearing one, be prepared for "nice hat" comments.
The Tilley T3 hat is meant for the bushcrafter who spends most of their time outdoors.
It's made from pre-shrunk cotton duck fabric, which makes it super water repellent and mildew resistant. The hat features four grommets that make for excellent ventilation to keep your head cool.
Do you sweat a lot on hot days in the bush? (rhetorical question) the Tilley T3 comes with a built-in hydrofil sweatband that will wick sweat away and prevent it from getting into your eyes.
My favorite part about this hat is the versatile brim, if you want maximum protection from the sun taking full advantage of the hat's UPF 50 certified rating you can leave the brim down. However, if it's a nice overcast day, you can also snap the sides out of the way.
Nothing is more anything than a hat that blows off in strong winds. For windy days, the Tilley T3 has a built-in wind chord to wear under your chin that pretty much guarantees the hat won't blow away into the bush, never to be found again.
Should you find yourself in a situation where you are canoeing, and your hat blows off, the included non-absorbent foam liner gives the hat buoyancy and will prevent it from sinking to the bottom.
To top it off, Tilley offers a lifetime guarantee on their hats.
2. Tilley TH5 Hemp Hat
Tilley Hemp Hat Review - Tilley TH5
Surprise surprise, Tilley has made the list again. If you've ever owned a Tilley hat, this would come as no surprise. Tilley has long been the preferred headgear for wilderness adventurers.
This particular model is made from 100% hemp material. It's lightweight, breathable, durable, comes with a 3 inch brim and is extremely comfortable.
Hemp is naturally antibacterial and antifungal, making it an ideal choice for people who enjoy spending most of their time in the bush.
Designed to be worn loose and lower on the head, this hat is comfortable for long periods of time. I found the hemp material keeps your head slightly cooler compared to cotton material.
In addition, the adjustable string allows you to tighten or loosen the fit depending on how windy it gets outside.
Like most Tilley products, the TH5 hemp hat is guaranteed for life. Which helps justify the price.
3. Outback Trading Outdoor Hat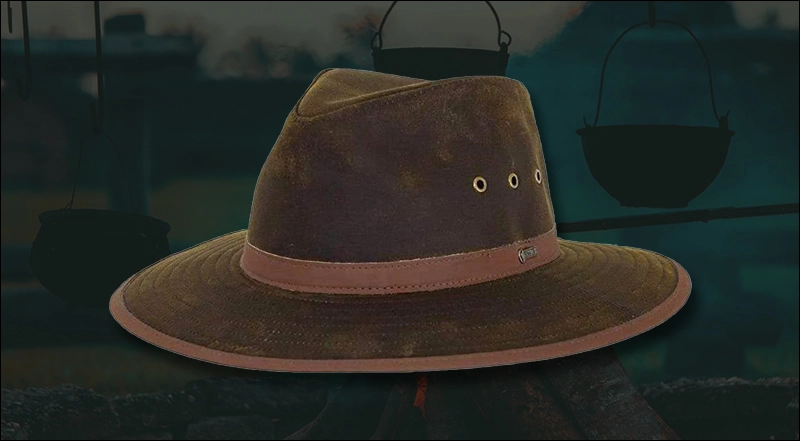 I'm not sure why, but the Outback Trading outdoor hat always seemed to pop up on my Amazon recommendations. So I decided to give it a shot and have worn it on and off ever since.
Simply put, it's the best value outdoors hat on the list.
Toting a UPF 50 rating made from 100% cotton with an oilskin finish and a 3-inch brim, this hat truly is meant for all conditions.
It was able to keep me protected from the sun all day and when it started to rain, thanks to the water repellent material, the water just wicked right off the hat, keeping what's left of my hair dry.
Fun fact: oilskin is typically worn by sailors to keep them dry. So you know it works.
This hat is considerably cheaper than the two previous hats I talked about, but it doesn't seem like a cheap hat when you get it.
It really is a great value, I can see why Amazon kept pushing this for me.
4. Filson Tin Packer Hat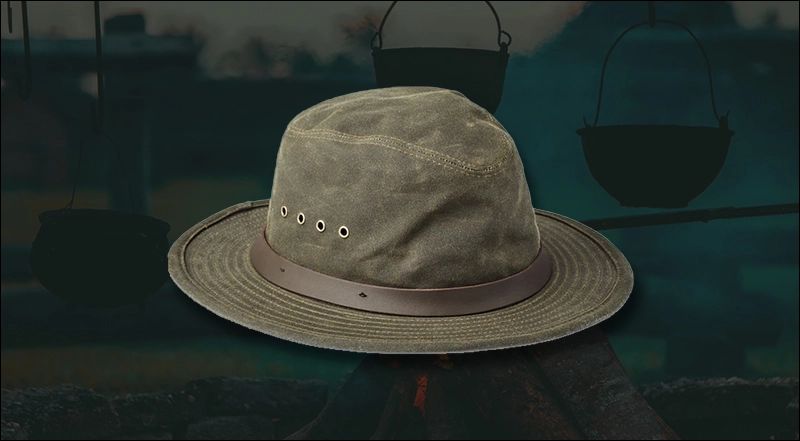 Filson is another well known company in the world of bushcraft, their tin packer line of hats specifically.
The Filson tin packers have proven themselves to be some of the best quality hats around. They're designed to withstand extreme weather conditions while still being light weight enough.
This hat sports a 2 1/4″ wide brim.
I would recommend this hat for spring / fall months, despite the ventilation grommets it still tends to get pretty warm on hot summer days.
Something else to keep in mind if you decide to go with the tin packer, it tends to shrink slightly after it gets wet and drys the first few times. It's a good idea to slightly size up to make up for this.
Things to consider
There are a wide variety of factors that you should consider before purchasing a new hat for the bush.
Material
You want a hat made from material that is strong enough to stand up to everything you put it through in the bush. Cotton duck fabric, for example.
Cotton duck fabric is such a strong material that it has even been used as the material for sails on a sailboat. Its thick weave is super resistant to rough wear and tearing. Some other advantages of cotton duck include:
Snag resistant
Excellent windbreaker
semi-fire resistant
And no, don't let the name fool you, duck fabric material is not made from ducks. The word duck actually comes from the Dutch word doek which translates to cloth.
Water repellent
Nothing is worse than a wet hat, you want something that will be able to wick away moisture and stay relatively dry.
Look for a hat coated in water resistant properties like oilskin for example.
Oilskin materials first came in use in the early 1800s by sailers to keep them dry while facing the strong sprays of the oceans, and has been a popular choice of material throughout history for people entering wet conditions.
Thanks to its waterproof properties, oilskin hats tend to last far longer than the average.
Sun protection factor
A hat protects your head from the sun, which is important when camping in the wilderness. If you don't wear a hat, you can get awful sunburns and may even suffer from heatstroke.
Hats sporting a UPF rating of 50 are what you should be aiming for. UPF is used to measure how effective fabrics are against the UV rays of the sun.
A UPF rating of 50 will effectively block 98% of UV rays when worn, whereas a UPF rating of 15 would only block 93.3% of UV rays.
Final thoughts
When choosing a hat for the bush, there are many things to think about.
You need to look at the type of environment where you'll be wearing the hat. Will it be cold? Hot? Wet? Dry? Windy? Sunny? You name it.
These questions help determine what kind of hat you might need.
If you're looking for a versatile hat that will work year round in the bush, then you probably won't find anything better than the classic Tilley T3 wanderer.
Happy trails y'all!
Let me know if you liked the post. That's the only way I can improve.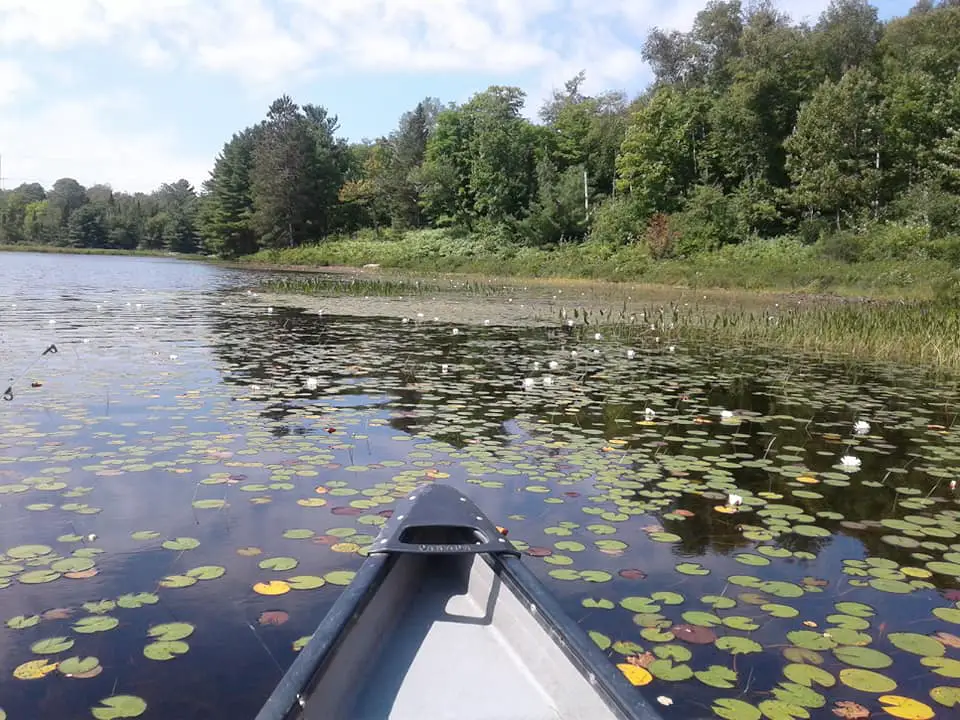 Hey I'm Josh! I have been practicing Bushcraft for a little over 6 years now! I Started this website to review awesome bushcraft gear that I love as well as share information I have learned along the way!